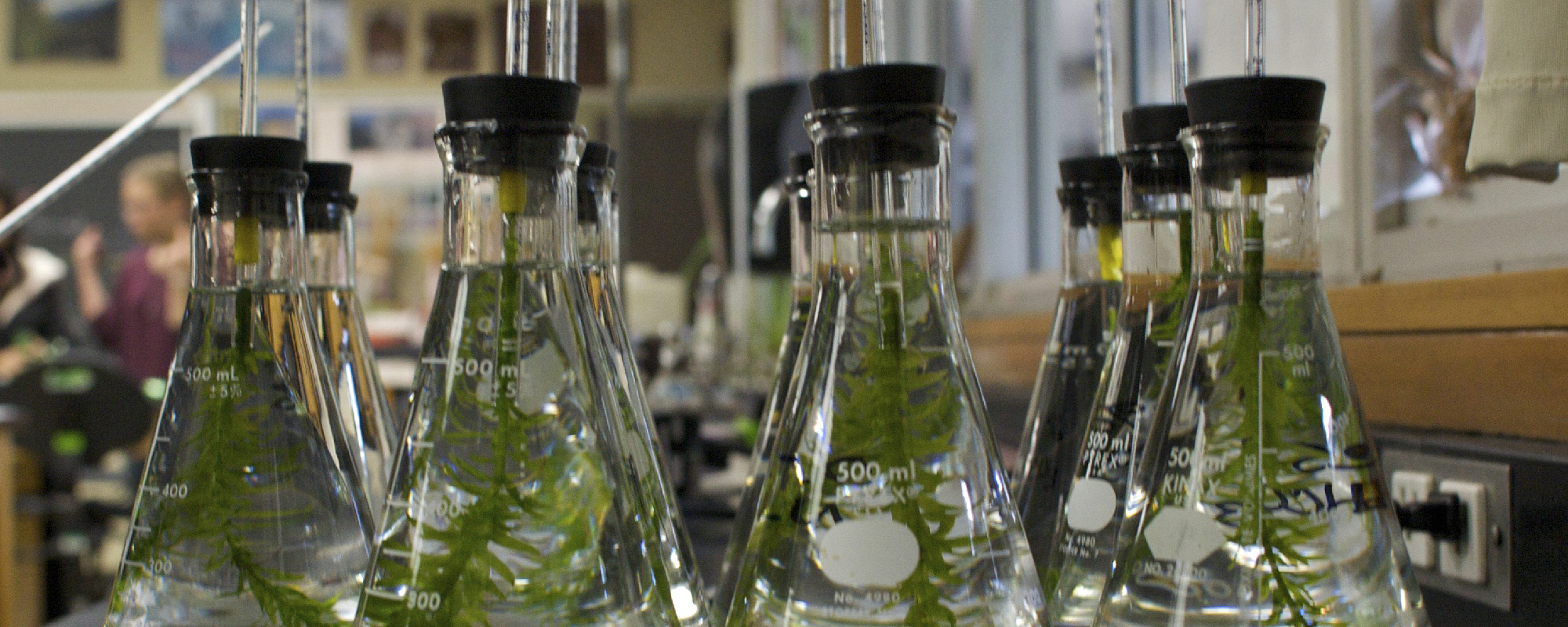 The Biological Sciences Department offers courses leading to an A.A. or A.S. degree with a major in either Biology or Pre-Allied Health (for allied health students). Students can transfer to four-year colleges or universities with or without an A.A. or A.S. degree. Information about these majors and transfer requirements is summarized below; additional information can be accessed from the indicated links and from the Biology Majors page.
Biology Major
The Associate of Science degree with a major in Biology is designed for students intending to transfer to four-year programs in the biological sciences, including general biology, cell or molecular biology, organism biology, marine biology, botany, zoology, ecology, environmental sciences, evolution, genetics, anatomy, physiology, microbiology, and agricultural sciences. The major is also designed for students planning to pursue careers in dentistry, medicine, veterinary medicine, or physical therapy. It is not designed to meet the needs of students interested in pursuing studies in allied health fields.
Students taking both BIO 10 and CHEM 1A or CHEM 4A their first semester or entering with equivalent classes will be able to complete the Biology requirements in four semesters. Additional time may be required to finish general education requirements plus the chemistry, physics, and math requirements
Students can transfer to most transfer universities without completing all the major requirements. However, years of student feedback indicates that those who took the time to complete all of their Chemistry and Biology requirements at SRJC appreciate their preparation after transferring and feel that any extra time invested was worthwhile
Upon successful completion of this program students will be able to:
Apply the scientific method to investigating and evaluating biological phenomenon and summarize results in written scientific format;

Perform laboratory techniques, including microscopy, with a high level of expertise without assistance or instruction;

Synthesize evolutionary mechanisms, trends, and history with biodiversity;

Integrate the levels of biological organization including cell mechanisms, anatomy, physiology, genetics, ecology, and evolution;

Investigate human interactions with all levels of biological processes emphasizing the principles of ecosystem, community, population ecology, and global human impacts;

Apply knowledge of biological organisms and principles in advanced courses in order to transfer to four year institutions.

Pre-Allied Health Major
The Associate of Science degree with a major in Pre-Allied Health is designed for students intending to pursue studies in allied health disciplines, such as Nursing, Dental Hygiene, or Physical Therapy Assistant. Some of these allied health disciplines are offered at SRJC, some only at four-year institutions. Life Sciences courses included in this major include: an introduction to biology (BIO 10), the study of the structure of the human body (ANAT 1), the study of the function of the human body (PHYSIO 1), and the study of microbes, including those that cause many of our health problems (Microbiology: fundamentals, general or medical; MICRO 60, MICRO 5). A special Chemistry course designed for allied health students (CHEM 60), which touches on inorganic, organic, and biochemistry, is also included in the major. Instructors feel strongly that students cannot understand the material presented in Physiology and Microbiology courses without the chemical background presented in this course. Most students require three semesters to complete these courses, and are then ready to apply for the SRJC Nursing or Dental Hygiene Programs. A fourth semester is typically spent taking other prerequisite courses for the Nursing or Dental Hygiene Programs, including communication, food and nutrition, sociology, and psychology.
Upon successful completion of this program students will be able to:
Demonstrate an understanding of the relationship between structure and function by predicting the function of unfamiliar structures based on knowledge of previously studied cells, tissues, and organs.
Use skills acquired in the human anatomy course to learn new body structures.
Work safely in a lab or clinical setting with microorganisms.
Explain pharmaceutical drug actions based on knowledge of physiological mechanisms.
Apply knowledge of anatomy, microbiology, physiology to more advanced courses required in allied health majors.
Apply knowledge of anatomy, microbiology or physiology in the clinical practice of nursing or dental hygiene.
Natural Science Major
The Natural Sciences major focuses on the physical universe, its life forms, and its natural phenomena. This degree program is intended for the student who wants to explore the natural sciences and has not yet settled on a specific field. The major can serve as an introduction to the various related disciplines in the natural sciences, including astronomy, biology, botany, chemistry, environmental science, geology, meteorology, physics, and physiology. However, this major does not align directly with either CSU or UC lower division requirements in Biology, so it is strongly recommended that students consult with a counselor to prepare properly for transfer.
This associate degree will not be awarded concurrently with or subsequent to a degree in a related discipline, including Biology, Chemistry, Engineering, Environmental Studies, Mathematics, Natural Resource Conservation, Physics, or Physiology
Upon successful completion of this program students will be able to:
Describe the facts and principles that form the basis of one discipline within the natural sciences.
Outline the scientific method and describe how this method is used to study the natural world.
Apply critical thinking skills and knowledge of the scientific method to the observation and exploration of natural phenomena.
More Information About Majors
For more information on these majors go to the SRJC Majors page.
Transfer Information
Many students taking courses in the Biological Science Department are preparing for transfer to four-year universities. The majority of students associated with our department transfer to Sonoma State University, University of California, Davis, and University of California, Berkeley. Transfer requirements for each school can vary. Students should read all the information about transfer requirements in general and for the specific schools they are applying to.