Laboratories and Specimen Collections
The Biological Sciences Department has excellent facilities for the study of Biology. Most lecture rooms are equipped with computers and projection equipment.
Anatomy Lab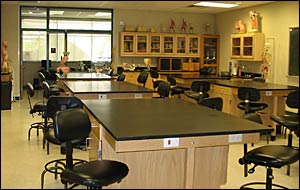 The Anatomy laboratory includes separate rooms for cadaver dissection with state of the art ventilation, prosection storage and preparation, and a small computer lab for online and CD review of gross and microscopic anatomy. The Anatomy lab also contains an extensive collection of models and human bones.
Cell and Microbiology Lab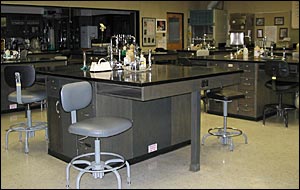 The Microbiology laboratory is equipped with autoclave, centrifuge, micro-centrifuge, and PCR thermocycler, which facilitates hands-on work with live bacteria and instruction on aseptic techniques and different types of growth media.
Zoology Lab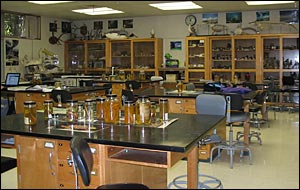 The Zoology laboratory has a salt water table to maintain living specimens in the lab throughout the semester, and extensive collections of preserved invertebrate and vertebrate specimens.
Physiology Facility
The Physiology facility includes a computer lab with BioPac© available for student experiments.
Herbarium
There is a herbarium associated with the Botany lab, including specimens collected for over 50 years.